1234YF Recover, Recycle, Recharge A/C Machine
USD $6,715.00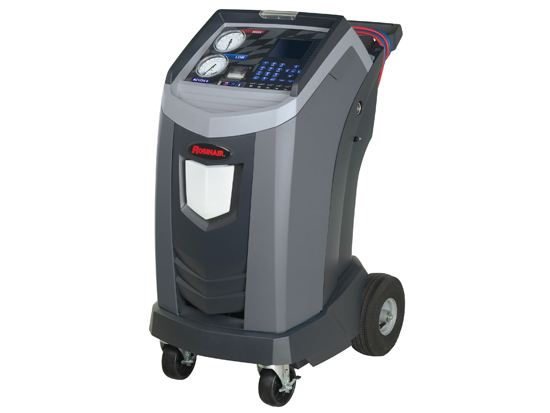 Click to view California Proposition 65 warning
The AC1234-6 fully meets SAE's requirement for recovering, recycling and recharging vehicle A/C systems that use the new R1234YF refrigerant. The AC1234-6 is a fully-automatic ACS machine that comes with an integrated refrigerant identifier that samples the refrigerant in the vehicle's A/C system prior to recovery, is a highly accurate and reliable machine, and can service both standard and hybrid vehicle A/C systems. Use the 42-18460 Oil Injector accessory to add oil to a fully pressurized A/C system. Just fill the barrel with the amount of oil needed, connect the injector, and press the plunger.
Product Specs:
Operating voltage - 103-127V, 60Hz AC
100mm, EN837-1 pressure gauges
Alpha-numeric keypad with service function keys
1.5 cfm dual stage vacuum pump
1/3 hp hermetic compressor
22 lb. ASME internal storage tank
USB, SD, and RJ45 I/O ports
8 ft. SAE J2888 service hoses with 1234YF high and low side system couplers
Meets all requirements of SAE J2843
Estimated lead time approximately 4 weeks.
Features
Fully automatic operation — program for service, walk away and return when complete.
95% recovery efficiency.
Programmable vacuum operation helps get to the necessary vacuum level in any condition quickly.
System leak test to identify gross leaks in a system.
Charge accuracy within +/- ½ oz.
Integrated refrigerant identifier (meets SAE J2927).
Automatic oil drain shows how much oil was removed from the system during service.
Automatic air purge removes the potential of air accumulating in the internal tank.
Liquid refrigerant flushing function can flush A/C systems or individual components using liquid refrigerant instead of harsh chemicals.
Technical
| | | |
| --- | --- | --- |
| Weight approx. | 230 | lbs |
| Dimensions (L x W x H) | 36 x 24 x 48.5 | inch |
Accessories