EHP System V Tilt-Tower Tire Changer
$11,260.00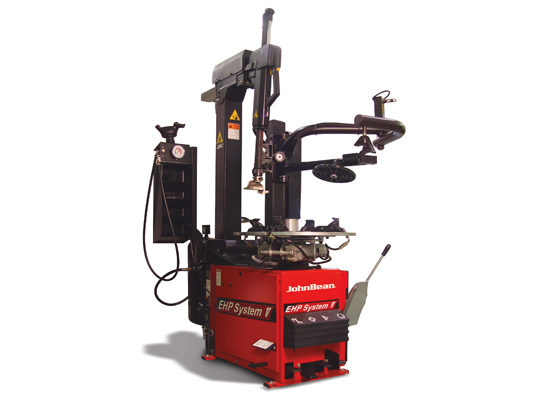 The EHP System V tire changer handles a wide range of high-performance wheel and tire assemblies, including low-profile and run-flat tires. Advanced features, such as pneumatic locking of the mount/demount head offset, provide maximum cosmetic safety for expensive wheels and significantly reduce the risk of wheel or tire damage. The tilt-tower provides maximum clearance for technicians when placing wheel and tire assemblies into position. Pneumatic bead assist is standard.


Features
Optional Safety Restraint Arm -- Positively restrains wheel and tire assembly to the tire changer during the inflation process and reduces potential for injury in the unlikely event of wheel or tire failure.
Ergonimically-Positioned Bead Breaker Control -- Pedal is positioned away from the bead breaker with a guard, preventing the operator from accidentally stepping on and activating it while standing next to the bead breaker.
Integrated Pressure Limiter -- Stops air flow once pressure has reached 55 PSI (3.5 Bar), thereby preventing accidental tire over-inflation.
Adjustable Four-Jaw Clamp -- Self-centering nylon-covered clamps grip securely and protect the wheel. Reduced-angle jaws ensure no slippage. Air inflation jets assist bead seating.
Extra Wheel Protection -- Replaceable nylon inserts for demount heads prevent wheel scratching.
Twin-Cylinder Clamping -- Two powerful clamping cylinders provide uniform clamping pressure and increased clamping power.
Bead Breaker -- Provides precise power and can be toggled with the foot pedal as needed. Both the stiffest and the softest sidewalls are a snap. No damage to tires while loosening the bead.
Adjustable two-position bead breaker with robust, anti-skid contact pad and over-sized bead-breaking blade.
Pneumatic Bead Assist -- The standard Pneumatic Bead Assist features a three-piece design with a Top Roller, Pressing Foot, and Lifting Disc.
Technical
| | | |
| --- | --- | --- |
| Tire diameter | 47 maximum | inch |
| Rim diameter | 26 maximum outside clamping diameter | inch |
| Rim width | 16 maximum | inch |
| Color | Red | |
| Power supply | 120 1 Phase / 60 | V/Hz/A |
| Dimensions (L x W x H) | 78 x 72 recommended floor space | inch |
Accessories
| | | | |
| --- | --- | --- | --- |
| 119-EAA0304G66A | Quick Exchange Mount Head | $594.00 | Add to cart |